Posts for tag: tooth decay
By David J. Wadas, DDS, PLLC
November 14, 2016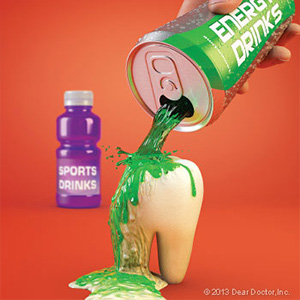 Sports and energy drinks — two different types of popular beverages. But though different they have one thing in common: they can both wreak havoc on your tooth enamel.
That's because each contains high concentrations of acid. And acid is tooth enamel's mortal enemy — prolonged exposure with it causes the minerals in enamel to soften and erode, a process called de-mineralization.
Demineralization becomes even more pronounced when the mouth's pH levels fall below 4.0 into the acidic range. A sampling of various brands of sports and energy drinks reveal mean pH levels below even that threshold. Energy drinks are especially harmful to enamel because the type of acid they contain is more concentrated.
So, what can you do to minimize this threat to your dental health? The optimal thing to do is avoid such beverages altogether, especially energy drinks. If you currently re-hydrate after hard work or exercise with sports drinks, consider switching to water, nature's hydrator.
If you do, however, continue to drink these beverages, then follow a few precautions to lessen the acidic levels in your mouth:
Wait until mealtimes. Saliva is your body's way of neutralizing acid in your mouth, but it takes about 30 to 60 minutes for it to fully buffer acid. If you're sipping between meals on acidic beverages, saliva can't keep up. So, wait until you eat or limit your sipping time on a drink.
Rinse with water. Since water's pH is neutral, swishing some in your mouth right after drinking a sports or energy drink will help reduce acidity.
Wait an hour to brush. Your enamel will begin demineralizing as soon as it encounters acid. If you brush right away you could be sloughing off miniscule amounts of softened minerals. By waiting an hour you give your saliva time to buffer and help re-mineralize the enamel.
Although popular, especially among teenagers and young adults, overindulgence in sports and energy drinks could damage your teeth and increase your risk for tooth decay. With a little moderation and common sense, you can keep your enamel strong and healthy.
If you would like more information on the effects of sports and energy drinks on dental health, please contact us or schedule an appointment for a consultation. You can also learn more about this topic by reading the Dear Doctor magazine article "Think Before you Drink."
By David J. Wadas, DDS, PLLC
August 23, 2016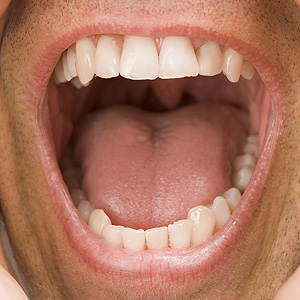 We often don't realize how important something is until it's gone. Like saliva: you're usually not aware that it's cleaning the mouth, neutralizing mouth acid or helping with digestion. But that could change if your saliva flow drops below normal: your health may soon suffer with your mouth taking the brunt.
In particular, reduced saliva flow increases your risk for tooth decay and periodontal (gum) disease. Both diseases are linked to oral bacteria. While many of the myriad strains in the mouth are beneficial, a few bacteria can infect and inflame gum tissues. Bacteria also produce acid, which can soften and erode enamel and make the teeth more susceptible to decay.
Saliva inhibits bacteria in a number of ways. It first clears the mouth of leftover food so not as much stays behind to form bacterial plaque, a thin film of food particles that builds up on teeth. You still need to brush and floss daily to remove plaque, but it's less effective without saliva's cleansing action. Saliva also contains antibodies that destroy disease-causing bacteria and other organisms, which keeps their populations in the mouth low.
One of saliva's most important functions, though, is buffering acid. The mouth's ideal pH level is neutral, but many foods we eat can cause it to become more acidic. Even a slight acidic rise after eating can soften the minerals in enamel. But saliva goes to work immediately and usually restores normal pH within a half hour to an hour. It also aids in re-mineralizing the enamel.
For these reasons, it's important for you to find out the cause of chronic dry mouth and treat it. If it's a side effect of your medication, talk to your doctor about an alternative, or drink more water before and after you take your dose. Certain products can also stimulate saliva flow, like chewing gum with xylitol, an alcohol-based sweetener that has dental health-protecting properties too.
Although you often don't notice this unsung bodily fluid swishing in your mouth, it's important that you take care of it. Keeping your saliva flowing will help ensure better oral health.
If you would like more information on the importance of saliva to health, please contact us or schedule an appointment for a consultation. You can also learn more about this topic by reading the Dear Doctor magazine article "Saliva: How it is used to Diagnose Disease."